Friends and Family Fun Night!
A great time for friends and family!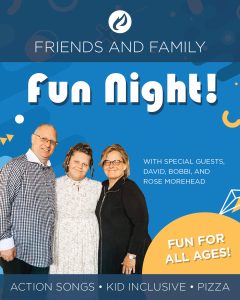 Join us for Friends and Family Fun Night on Sunday at 6pm, at our Kentwood Campus! Fun Night is kid-inclusive, with special guests David, Bobbi, and Rose Morehead leading an awesome (and fun-filled) time for ALL AGES! And, afterward, we'll gather together for some pizza and fellowship! Brother Morehead is our Children's Ministry Director for the Michigan District United Pentecostal Church. Can't wait to see you there!
Directions: 2627 44th St. SE Kentwood, MI 49512