Annual Harvest Party!
Chili Cook Off • Donuts • Fun and Games!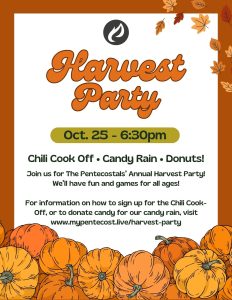 Join us for The Pentecostals' Annual Harvest Party on October 25th, 2023 at 6:30pm! We'll have fun and games for all ages, including a Chili Cook Off, a Candy Rain, and donuts and Cider!
To sign up for the Chili Cook-Off, or to donate candy for our candy rain, contact Nathan or Marisa Burgett, or Patrick or Sarah Morefield!
Directions: 2627 44th St. SE Kentwood, MI 49512