Comedy Night!
A hilarious night of fun for friends and family!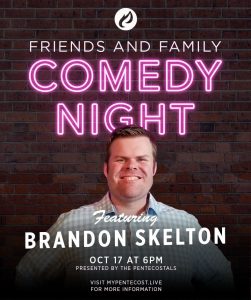 Join us for some side-splitting, family-friendly fun with comedian Brandon Skelton. Sunday, October 17th at 6PM we'll gather at our Kentwood campus for a time of laughter and entertainment, with donuts and coffee. Be sure to invite some friends and family!
Brandon is a stand-up comedian, football coach, fitness center manager, father, and husband! He's also the pastor of a church in Tennessee, and will be preaching at our Kentwood and Burton Heights campuses on that Sunday. It's going to be a great day!
Directions: 2627 44th St. SE Kentwood, MI 49512